It's not every day you see a celebrity rocking a pair of ripped denim jeans at the 2017 Met Gala.
As the red carpet officially opened up Monday night at the Metropolitan Museum of Art, Costume Institute, Pharrell Williams and Helen Lasichanh started the fashion party early with their looks.
The "Happy" singer stepped out wearing ripped Comme des Garçons jeans, a studded leather jacket and a red flannel. And as it turns out, he totally nailed it. 
As for Helen, she followed the theme exceptionally with a Comme des Garçons look from Rei Kawakubo's Fall 2017 collection.
"It's an honor. It's a brand that we have been huge fans of," Pharrell shared with E! News' Brad Goreski. "We've collaborated with them. They've been there for us."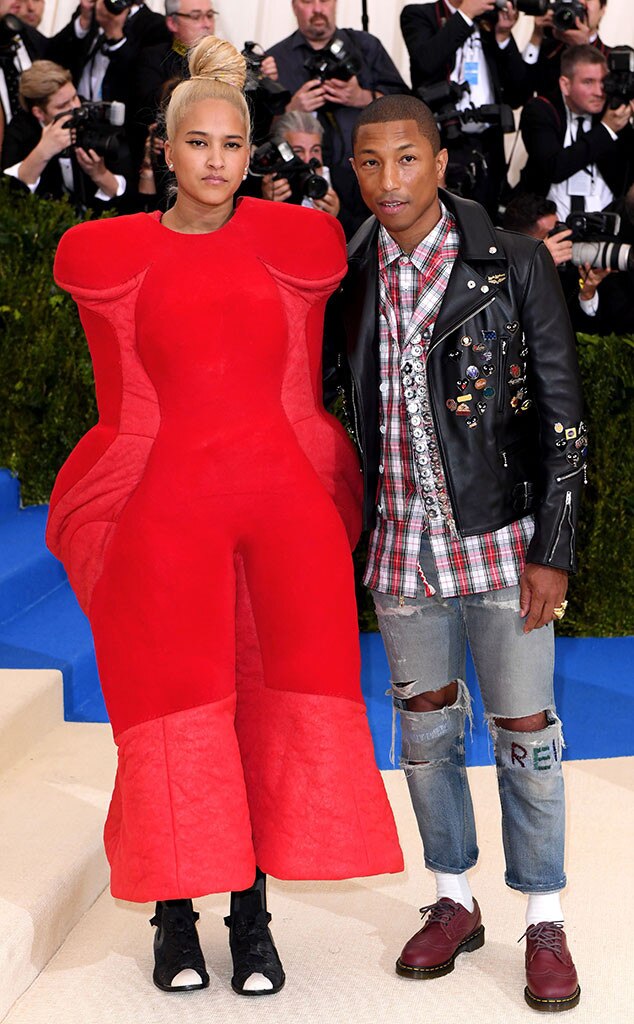 David Fisher/REX/Shutterstock
The Met Gala co-chair continued, "They support anything and everything I do. They never leave my side."
While some may think the look is a daring choice, Pharrell played it cool when describing his look on Live From the Red Carpet. After all, this is a man who loves to take a good fashion risk.
"I don't even know if this is a bold choice," he shared with us. "I feel like a regular dude because I wear a lot of it."
The annual red carpet fundraiser is focusing on designer Rei Kawakubo and the "Art of the In-Between." 
As the creator of label Comme des Garçons, the Japanese designer has since specialized in "anti-fashion," frequently sending designs down the runway that challenge conventions of fashion and beauty. 
On Monday, May 1, our Met Gala conversation starts on the E! News Facebook page at 7 p.m. ET / 4 p.m. PT. Immediately following E! News on Monday, May 1, we'll be live from New York with red carpet coverage of the Met Gala at 7:30 p.m. ET / 4:30 p.m. PT. For complete coverage of fashion's biggest night, tune in to E! News at 7 p.m. and Fashion Police at 8 p.m. on Tuesday, May 2.