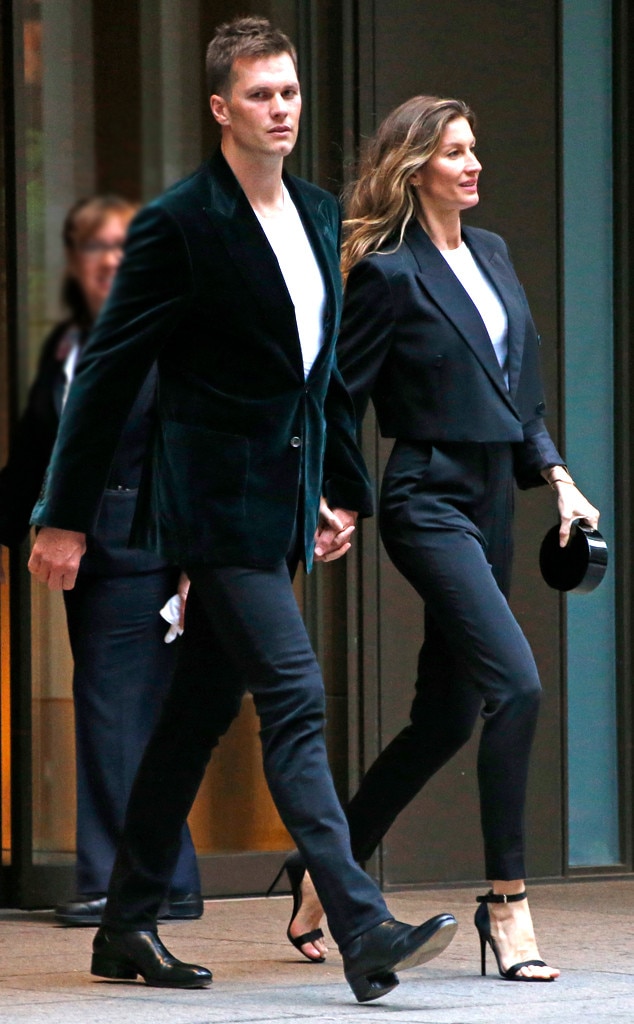 TheImageDirect.com
Ahead of fashion's biggest night of the year, co-chairs Tom Brady and wife Gisele Bündchen kept their outfits low key.
The New England Patriots quarterback and supermodel are two of the 2017 Met Gala's hosts, so prior to the big soiree the couple opted to match at an exclusive dinner the night before. Brady and Bündchen opted for black blazers over white tees and black pants. Bündchen opted for a strappy heel to pump up (pun intended) her look, while her football star husband kept it chic in black dress shoes.
Hosted by Vogue Editor-in-Chief Anna Wintour, the dinner also featured guests such as Pharrell Williams, Katy Perry and Huma Abedin. Caroline Kennedy, the former ambassador to Japan, will join the Toyko-born designer as an honorary chair.
The couple's laid-back looks seem like a good choice ahead of Monday night's theme, Rei Kawakubo/Comme des Garçons. The focus of this year's exhibition will examine the "Art of the In-Between" and show how the designer's work challenged norms on beauty, taste and fashion.
The typically over-the-top style of Comme des Garçons will leave plenty of room for Hollywood A-listers to dress loudly, so the co-hosts' quiet appearance is a good way to prepare for what should be a wild night for fashion.
While there's no word on who is designing Brady's and Bündchen's ensembles, we're sure they're going to look fantastic at their big night tonight.
What do you think of the couple's twinning moment? Sound off in the comments!
On Monday, May 1, our Met Gala conversation starts on the E! News Facebook page at 7 p.m. ET / 4 p.m. PT. Immediately following E! News on Monday, May 1, we'll be live from New York with red carpet coverage of the Met Gala at 7:30 p.m. ET / 4:30 p.m. PT. For complete coverage of fashion's biggest night, tune in to E! News at 7 p.m. and Fashion Police at 8 p.m. on Tuesday, May 2.